Food Ideas for a Beach Wedding: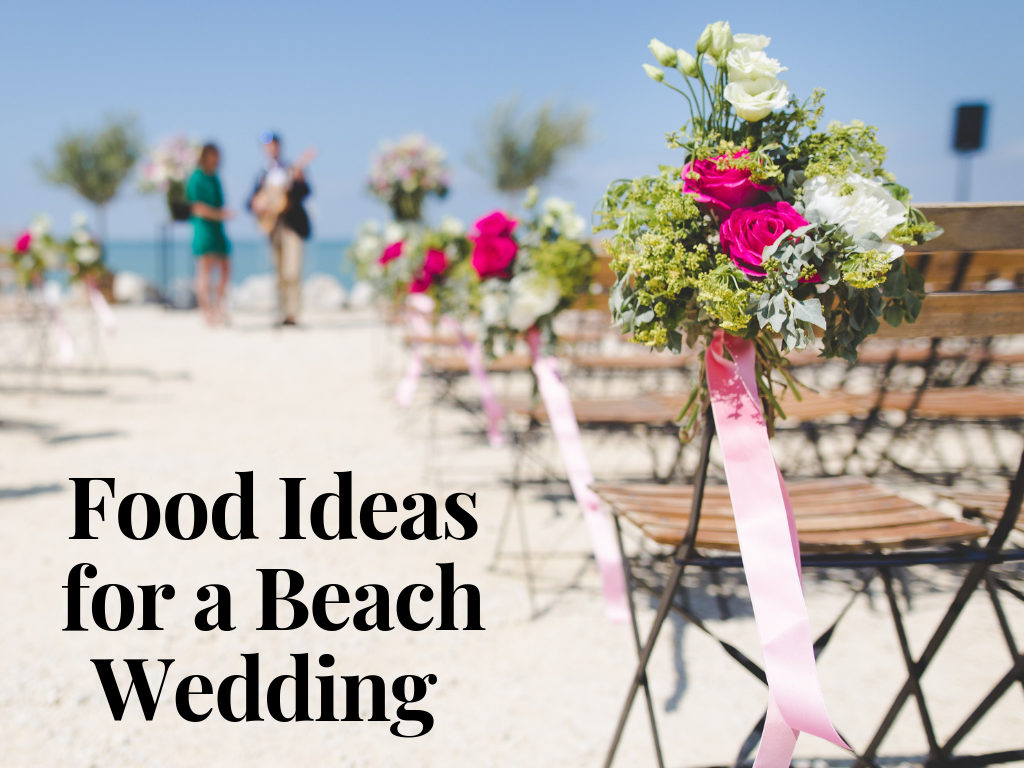 It is not hard to see why many couples would want a beach wedding. Beaches are naturally beautiful landscapes, where you don't need to do much in terms of decorations. Plus, you can instantly hold your reception there. Because of this, you get a lot of time for planning and prepping for your menu.
When it comes to wedding food caterings, you and your partner are not only limited to the given menu but also have the freedom to pitch in food ideas for your perfect beach wedding.
If you already chose a company doing your wedding food catering, try asking them if they can add the food items listed below in your package.
Bite-sized food are fuss-free
On the beach, everyone may be exposed to sand and strong winds. It can be sometimes difficult to eat in these conditions, which why you need food items without making so much mess. A few examples of these are:
Vegetable Shooters
Shrimp Cocktails
Garlic Bread
Chicken Ala King in Puff Pastry
Club Sandwiches
Grilled food are perfect for the outdoors
Most of your guests probably had fond memories of grilling meat and seafood with their loved ones on the beach. Caterers serving these type of cuisine will set the mood further. A few of these dishes are:
Chicken Inasal
Butter Shrimp
Vegetable and Tofu Skewers
Pork Barbecue
Grilled Scallops with Onions
Fruits are a refreshing accompaniment
Refreshing fruits are one of the most sought-after foods on the beach. It is juicy, refreshing, and a perfect pick-me-up under the summer heat.
For fruits, you have the option of not only making desserts but also providing guests the options of having smoothies made for them by the caterer. You can serve fruits that are usually easy to procure and generally affordable, such as watermelon, mango, banana, coconut, and orange. If you want to be a bit more adventurous and still save a bit, caterers can pick one seasonal fruit.
You can also choose to serve alcoholic drinks that have fruits, fruit juices, or desserts with fruits in them to go along with your beach theme. Examples of these are:
Sangria with Orange Slices
Coconut Vodka
Gin with Pomelo or Calamansi Juice
Set up a smores bar
If you can afford to bring a charcoal griller, why not let the guests have fun heating their own marshmallows and making their own smores?
Chefs can make pasta or noodle dishes on the spot
Noodles can be pre-cooked; dishes with this ingredient are easy to prepare on the wedding day. You can hire a chef and set up a noodle bar with vegetarian and non-vegetarian ingredient options.
If you want the cook to have an easier time, a menu of dishes with set ingredients can also be premade and guests can choose the dish to be cooked on the spot.
Vegetable Pasta Salad
Pad Thai
Peanut Noodles with Chicken
Garlic Shrimp Pasta
Key Takeaway
These food ideas will surely complete your beach wedding. They could easily be included in your menu with your chosen caterer.